With 12 world championship titles to his name, Cyrille Lemoine has been our loyal partner for eight years now!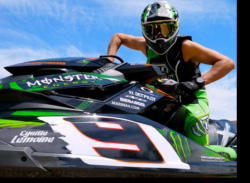 Where does your passion for jet skiing come from?
Since I was very little, I have been taking part in moto cross races, and when I read magazines, all the US drivers trained on jet skis. I was always attracted to it and, following several motorbike falls, I was fed up of trips to the hospital and started jet skiing.
At the age of 17 I was one of the youngest and was lucky enough to become French champion in the standard category from my first year. So that allowed me to get a few steps ahead.
A 12th world championship title and a new world championship title in offshore jet ski recently in Aquabike World Powerboat, nothing can stop you now! What are your impressions of your career to date?
Let's say that my last title dated from 2013, so this brings my record up to date (laughs).
I am very happy with my career so far. I owe a good part of it to my father, who has spent more than 20 jet ski and motorbike seasons with me every weekend, doing his best to take care of everything for me so that I can just concentrate on driving and winning. 
Over these 20 seasons, jet skiing has allowed me to travel around the world, to see lots of countries and meet lots of interesting people. If I could do it over again there is not much I would change (laughs)!
Where do you see yourself in years to come?
In California! In fact, I am here already, I arrived not long ago and I have decided to settle here.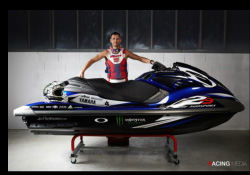 I am going to participate in the American championship in 2016 and I really hope to stay here.
You have been a BRM partner for several years now, what does that bring you?
First of all, I was able to meet Bernard Richards, who is a good person, and who has now become a friend. It is rare to meet someone as passionate as he is. Apart from that, the chance to wear some lovely watches (laughs)!